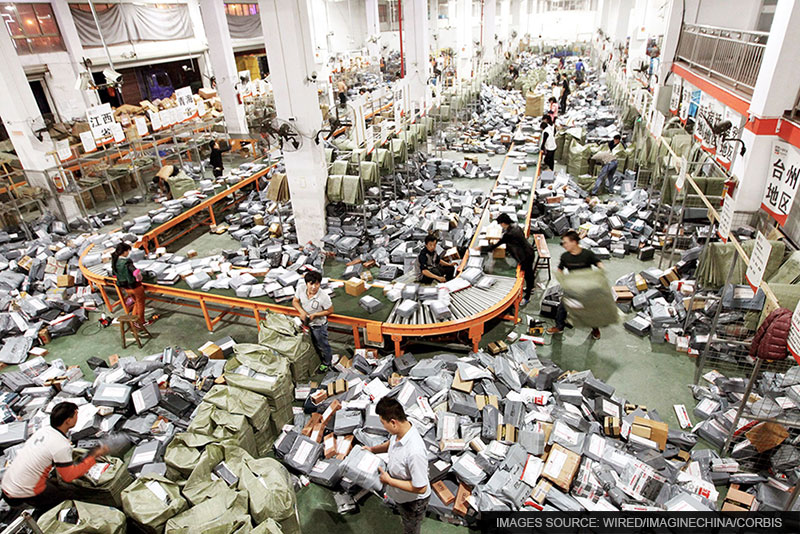 China's biggest shopping day, dubbed Singles Day comes round every on November 11, It has become three times bigger than America's Black Friday and Cyber Monday combined in 2015, 1 day of online shopping in China is bigger than 9 months in India (1)
The day accounted for 2% of China's total online shopping expenditure this year – an anticipated US $911 billion, rising to beyond a trillion bucks in 2017.
CHINA vs INDIA
China accounts for nearly 80 percent of online retail sales in Asia Pacific, and Forrester expects it to become the first market to reach $1 trillion in online retail sales in 2020. More than 19 percent of all retail sales in China takes place online, and it will reach 24 percent by 2021. (2)
ADVANCING INDIA
According to a Study Indian Online retail sales is registering a double digit growth figure year after year and is growing at an impressive rate of 15%, With the expansion of E-commerce into tier-2 and tier-3 cities, rise of digital natives, better infrastructure in terms of logistics, broadband and Internet-ready devices to fuel the demand in e-commerce by the end of 2018, Indian e-retail is expected to touch $17.52 billion and by 2026 according to Morgan Stanley report India's e-commerce market to hit $200 billion mark (3)
ONLINE MARKET SHARE ESTIMATES
According to analysts Indian online festival sale is dominated by Flipkart and Amazon with 80 percent of market share, However Flipkart registered gross sales, of Rs 5,000 crore during its five day Big Billion Days sale, Flipkart's numbers include sales at Myntra and Jabong and took the lead over its American rival Amazon India which registered gross sales of Rs2,500-2,700 crore during its Great Indian Festival Sale in September (4) (5)
INVESTMENTS IN E-COMMERCE LOGISTICS
Logistics has come a long way in India, Learning from the success stories of Alibaba and Amazon, Indian E-commerce players have understood clearly that in order to succeed in ecommerce market, Automation and upgradation of Warehouses and logistics is the only solution to satisfying the customers and remain in this fast changing competitive field.
According to World Bank's 2016 study India stood 35th among 160 countries on the Logistics Performance Index, Since then riding on the ecommerce wave, Warehousing and logistics companies have attracted investments of more than a billion dollars in the first half of 2017 (6) fueled by economic revival, Digitalization, Penetration of mobile and recently implementation of GST.
Mega e-fulfillment centers, parcel hubs/sortation centers, parcel delivery centers, shopping cart connected with transportation management system and returning processing centers are the distinct types of logistics function that have come into existence nowadays.
CHANGING INDIAN CONSUMERS ONLINE BUYING PERCEPTON
Compared to Indian population India's e-commerce market is still very small as many myths were prevailing in the mind of Indian consumers related to online buying, namely Product risk, Return policy, Financial risk, on-delivery risk.
However, with the increase in the use of mobile devices e-commerce brands make the most of this launched mobile App and user-friendly payment and delivery schemes with discounts.
Adopting to consumer behavior ecommerce players has been able to attract large number of youngsters, which has resulted in huge jump in of not only electronic items but fashion as well.
"MADE IN INDIA" E-COMMERCE FULFILMENT SOLUTIONS
It has been a common myth among e-commerce players that we're too small and Fulfillment solutions are very Expensive and only for the BIGGIES, However It is very important to have a seamless, cost effective and fully optimized order Fulfillment process in place to ensure repeat customers, better revenues and even better profits.
Expertise in 3PL and express distribution will help online sellers strengthen their distribution capabilities in Indian Market.
Indian Warehouse automation companies like Falcon Autotech competing with the world's leading Intra-Logistics solution provider offers latest cost efficient automation solutions for the Warehousing Industry including Arm sorter, Tilt Tray Sorter, Range of Static and Dynamic DWS Systems, Barcode scanning technologies, Belt conveyors, Roller Conveyors, Pick to light System, Put to light System, Multi Order Picking cart and Warehouse Control System (ContrlIT)
CONCLUSION
As foreign investors and companies like Amazon and Alibaba investing in billions of dollars into the Indian market, the Golden Age of India's E-commerce industry is ahead
A number of Indian e-tail Companies in order to offer rich user experience not only launching marketing schemes but have started building warehouses closer to consumer residential areas for faster delivery, with this modern and high-tech e-fulfillment centers will grow and offer end-to-end solutions for customers including  Sorting, Picking, Material handling, Packaging, labeling, transportation and delivery and returns.
Therefore, with consistent investment and Improvement in Last mile delivery solutions Indian online retail companies will certainly match up to the Chinese dragon
References:
Business standard (1)
Forrester Data /Yourstory (2)
Econmomic Times (2) (4)
Livemint (3) (5) (6)